Kettlebell Workout DVD – Get Fit Fast
Working out with kettlebell workout DVD is an easy way to get started if you are looking for ways to learn kettlebell workouts and exercises.
The workout DVD will help you perform these exercises successfully and safely. Find the DVD that is suitable in your level.
Kettlebell Workout DVDs Overview
Here is an overview of the best workout DVDs currently available:
Before you purchase a DVD, it's a good idea to get started with the right equipment. A kettlebell is a round weight with a handle at the top, giving it a bell shape. The kettlebells come in a variety of weights from as little as 3 pounds up to 25 and above. As a beginner, you'll want to start with a lower weight of 5-10 pounds.
If you are planning to follow a kettlebell workout DVD, it is a good idea to review the content first. The DVD will go through the range of motions needed to complete each kettlebell exercise. In addition, previewing the DVD ahead of time will allow you to become more familiar with the overall workout. Some DVD workouts tend to move too fast and can leave the viewer lost.
Most of the time, there will be multiple trainers in the DVD. One of these trainers will be doing a modified workout. If you are a beginner and not yet sure how the workout will affect you, it is suggested that you too follow this modified routine. Once you are accustomed to the movement, you can then move to the more advanced exercises.
Kettlebells are designed to lengthen and strengthen those muscles, not to build bulk. With kettlebell workouts, the emphasis is on the long movement and the overall momentum. Even if you are unable to follow all the moves, just swinging the bell between your legs will help strengthen your body.
Top Kettlebell Workout DVDs
Here are some effective kettlebell workout DVDs for different experience levels:
Amy Bento's Kettlebell Workout DVD: Kettlebell 3 in 1
This is a good workout to begin with, as it is tailored for beginners. The 3 in 1 refers to the three components of the workout, a tutorial segment that illustrates the basic moves, then a start-to-finish workout that puts together everything in the tutorial. The final segment is an intermediate workout which combines kettlebell moves and cardio exercises. This is a great video to start with, since all of the kettlebell workouts are illustrated with close-ups and descriptions.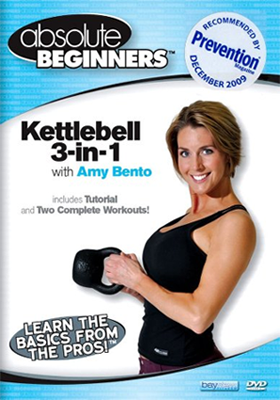 Enter the Kettlebell! Strength Secret of the Soviet Supermen
This kettlebell workout DVD has been a bestseller for several years. Kettlebell training originated in Russia and this workout reveals the training strategy used by hardcore athletes. Pavel Tsatsouline, who developed the world's first kettlebell instructor certification, is a true master of kettlebell training. He demonstrates all of the basic moves that you will need for any workout. The DVD will provide a true foundation for proficiency, as the proper form is clearly illustrated.
Extreme Kettlebell Workout Starring: Steve Cotter
As you can probably guess from the title, this one is for more advanced training. These workouts combine kettlebell moves with some martial arts techniques. There is not a great deal of basic instruction, but this is a great series for a full body workout. The Extreme Kettlebell Workout DVD should be added to your collection once you've mastered the basics and are looking for an extensive workout library.
This training includes the following collection:
4 Volumes on 4 dvds
containing 15 workouts
and over 100 techniques
Kettleworx Ultra System by Ryan Shanahan
The Kettleworx system has a complete kettlebell workout plan. It offers an easy, step-by-step program that guides you week by week (in 6 weeks) in personal training in DVD. In each training session you combine cardio, core and resistance workout all-in-one. You are working all 400 muscles at once! It includes training in 200 unique kettlebell workout exercises, more than 12 hours of personalized kettlebell workout instruction and a fat-free healthy eating plan. The Kettleworx' kettlebell workout plan is appropriate for men and women of any age and fitness level. The users will learn gradually to a more challenging kettlebell workouts from a series of kettlebell training.
You can preview here → Ryan Shanahan's Kettleworx Ultra System
Kettlebell Workout DVD at Home or with a Trainer
Beginning your training with a kettlebell workout DVD will help you learn and perform these exercises safely and correctly. There are a variety of skill levels to choose from. You can do an entire workout at home, or prepare yourself to meet the challenges of a class or working with a trainer. If you want to get started with proper training, a kettlebell workout DVD is a great choice.
Photo Credits from YouTube Video clip : http://www.youtube.com/watch?v=zd-dq1ETlH4